Bike Night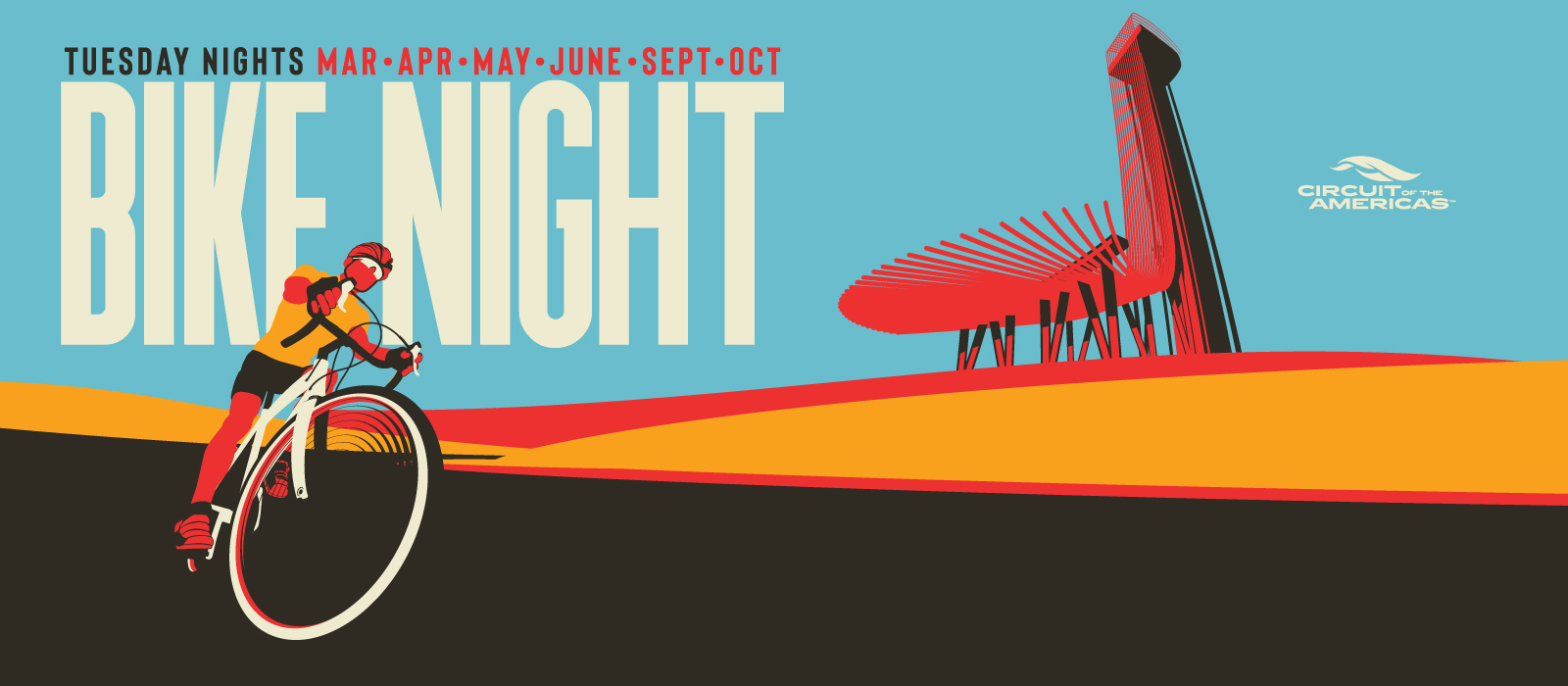 Bike Night
Powered by Ascension Seton
Returning Tuesdays in September at 5 PM
On Tuesday nights throughout the fall, cyclists will have the opportunity to clip in and navigate COTA's 3.4-mile circuit at Bike Night powered by Ascension Seton. The weekly event lets riders cruise COTA's famed stars and stripes in a socially-distant and stress-free environment without the worry of city traffic while offering fantastic sunset views of the COTA tower and Austin skyline. After the ride concludes, cyclists can replenish and recharge with a socially distant tailgate with fellow riders in our Paddock parking lot!
Please view the event details below to see changes due to COVID-19. Online registration only. Bike rentals are no longer available. Bring your own water. Bottled water available for purchase.
Map
Schedule
Event Details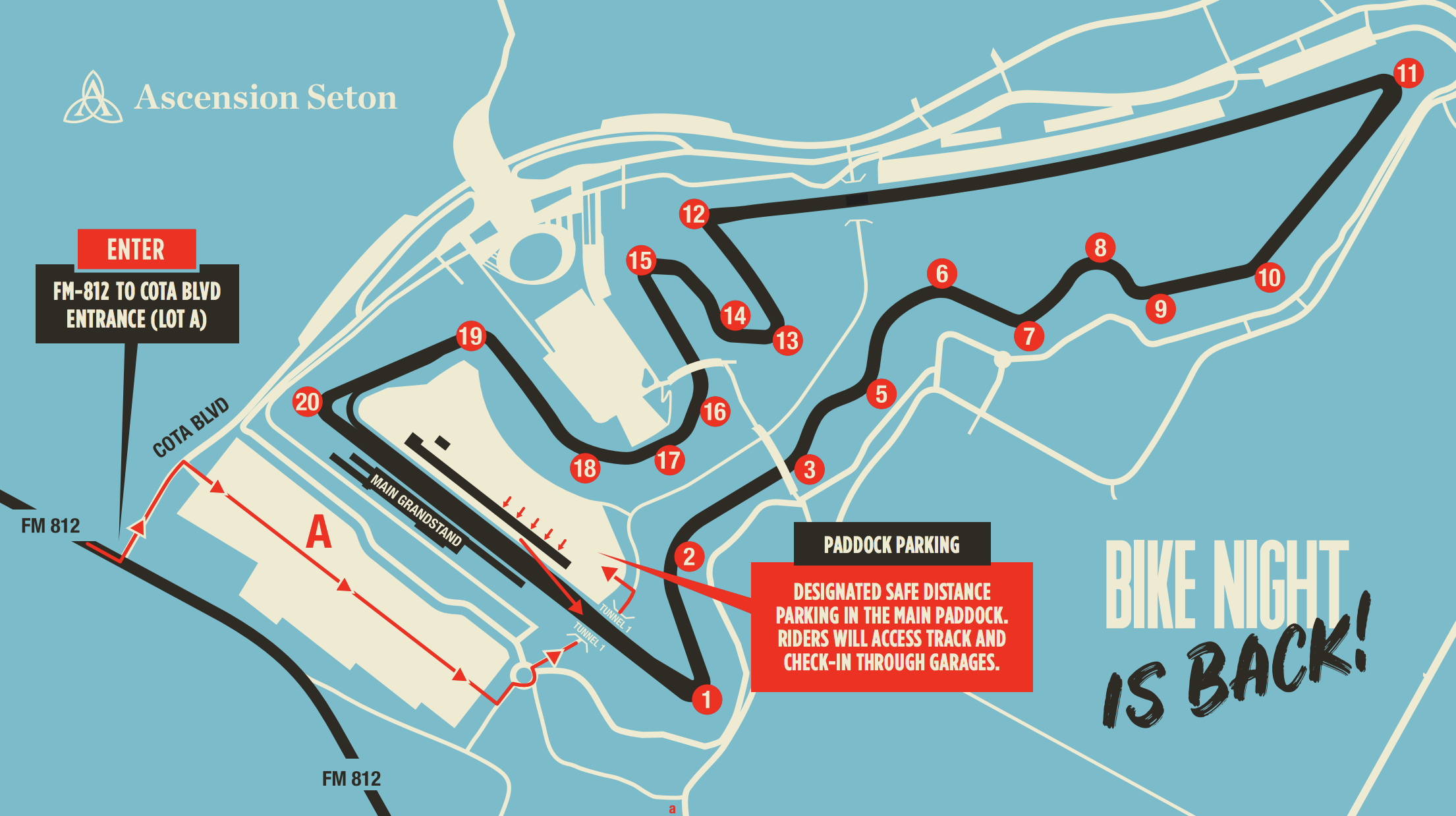 2020 Fall Schedule
Bike Night will happen on every Tuesday beginning September 1st!
September 1
September 8
September 15
September 22
September 29
October 6
October 13
October 20
FREQUENTLY ASKED QUESTIONS
WHEN DO RIDES TAKE PLACE?
We hit the track on Tuesday nights from 5-8 PM each Bike Night. After dark, the fun continues with a socially-distant tailgate. Bring your folding chairs!
HOW DO I REGISTER?
Riders should register online prior to the event here. Registration for the event closes the Monday before at 11:59 PM. No on-site registration will be available.
ARE MASKS REQUIRED?
Yes, all participants are required to wear a mask when not riding. We ask that all participants practice a minimum of six feet of social distancing at all times.
ARE HELMETS REQUIRED?
Wearing a helmet is highly encouraged, and all riders must sign a waiver at check-in. Riders age 18 and younger are required to wear a helmet.
WILL YOU STILL HAVE POST-EVENT DRINKS?
Yes, beers will still be available for purchase. Bring your folding chair and enjoy social distancing tailgating (6 feet, please) before and after you ride the track.
IF I BOUGHT A SEASON PASS, DO I NEED TO DO ANYTHING?
If you bought a a season pass back in March, you will automatically be registered for each week. Just show up and check-in to get your wristband. Then, you're all ready to ride!

WHERE DO I PARK?
Free parking is available in the Paddock.
DO KIDS RIDE FOR FREE?
Children under 11 years old ride for free. You can sign them up on line here. Be sure to sign the online waiver.
ARE BIKES AVAILABLE FOR RENT?
Unfortunately, bikes will not be available for rent. Please bring your own bike!
CAN SPECTATORS COME WATCH?
Unfortunately, no. Spectators are not allowed. Riders only during this time, please.
WILL WATER BE AVAILABLE?
Due to COVID-19, there will be no communal water checkpoints available. We recommend bringing your own water bottle or hydration pack to stay refreshed. We will have water bottles available for purchase.
DO YOU ACCEPT CASH?
No, we will not be accepting cash. Please plan to use credit or debit cards for on-site food and drink.
ARE ELECTRIC BICYCLES ALLOWED?
Yes! Recumbents are too. No skateboards or electric skateboards or electric uni-cycles.
WHAT ABOUT INCLEMENT WEATHER?
Bike night is a rain or shine event! The event will go on unless we expect a torrential downpour or a high chance of lightning. We will make any cancellation calls by 4 PM that afternoon. Follow COTA's social media accounts and this page for the most updated information.