Audi Driving Experience FAQ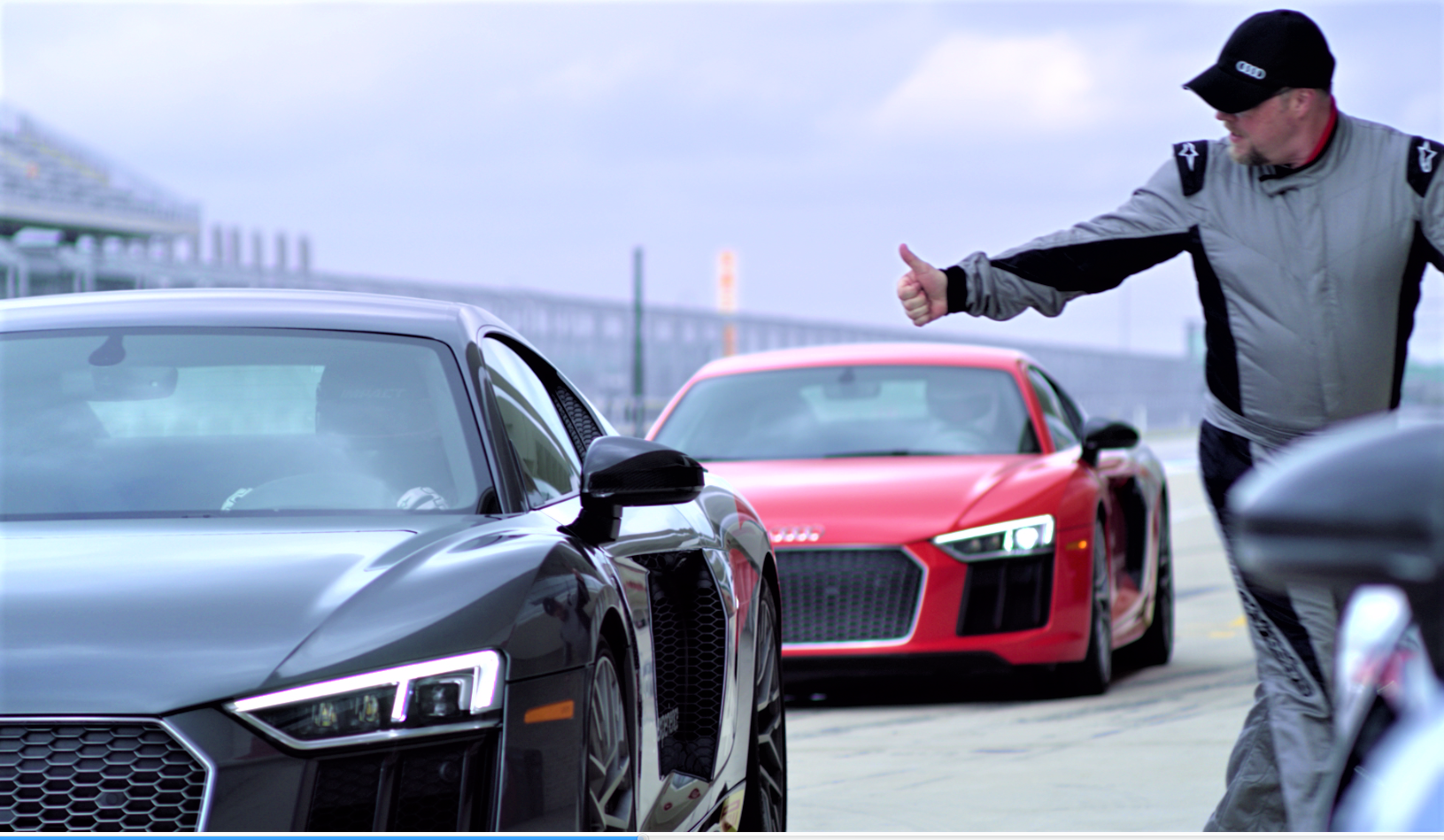 IS THERE AN AGE REQUIREMENT TO PARTICIPATE?
Participants are required to be at least 21 years of age and must possess a current valid driver license.
ARE THERE PREREQUISITES FOR ANY OF THE ACTIVITIES?
No prerequisites required for the Track Discovery, Track Initiation, and Track Immersion programs. The Track Immersion program will be the pre-requisite for the Track Pro program. Our team is trained to adapt to all skill levels and provide an exhilarating experience catered to any and all guests. From first timers to hardcore motorsport enthusiasts – participants with zero track experience all the way to seasoned track experts alike will have fun.
WHAT CARS WILL I BE ABLE TO DRIVE AT THE AUDI DRIVING EXPERIENCE?
You will have extensive seat time in several high-performance vehicles from the exhilarating Audi line-up:
TT RS - 394 horsepower
RS 3 - 394 horsepower
RS 5 - 444 horsepower
R8 V10 plus - 602 horsepower
*Please note all cars listed are not included in every program, to see what cars are included in your experience, please see the program descriptions for the corresponding program you have booked or are interested in booking.
HOW LONG IS THE EVENT?
Half-Day Programs:
Morning session approximately 8:00 am - 12:30 pm
Afternoon session approximately 12:00 pm - 5:30 pm
Full-Day programs:
Approximately 8:00 am - 5:30 pm
MAY I DRIVE MY OWN VEHICLE?
No, it can stay safe and sound in the paddock parking area. Your insurance company will thank you later.
DO I HAVE TO SHARE A VEHICLE WITH ANOTHER PARTICIPANT?
Yes – while participants are required to share cars, rest assured that the experience provides participants with ample seat time in the as they familiarize themselves with Circuit of the Americas and the high-performance Audi lineup.
AM I LIABLE FOR VEHICLE DAMAGE THAT MAY OCCUR DURING THE EVENT?
No, we take care of insurance so you can focus on having a blast. For maximum enjoyment, we do recommend that you keep everything in one piece, though.
WHO INSTRUCTS?
Certified professional instructors are on hand to give you the tools that will get the most out of these high-performance vehicles.
WHAT IF IT RAINS DURING THE PROGRAM?
All programs run rain or shine – water only adds another exciting element to your experience! In the event of lightning strikes we will hold the progression of the program until they have passed. Otherwise, we'll just turn on the wipers.
WHAT DO I NEED TO BRING WITH ME?
Be sure to have your valid driver's license with you, and an appetite for thrills.
WHAT TYPE OF ATTIRE IS APPROPRIATE FOR THIS EVENT?
Dress in cool, comfortable clothing.
While we certainly appreciate an impeccable fashion sense, open-toed footwear, high heels, and cowboy boots are not permitted for your safety. We recommend flat, thin-soled footwear such as driving shoes or sneakers.
It's a good idea to bring a hat or ballcap, as well as a windbreaker or fleece jacket to anticipate any weather changes during the day.
WHAT IF I AM COMING WITH A FRIEND AND WOULD LIKE TO BE GROUPED WITH THEM?
Simply send us an email ahead of time with your request and we'll do everything we can to accommodate.
IS THERE A POLICY ON GUESTS/SPECTATORS?
Guests and spectators are welcome to attend for a nominal fee of $175, you must call 512-655-6355 or email to inquire for a guest pass. Driving participants are limited to one guest. Guests must be at LEAST 14 years of age, children under 14 years will not be permitted. Please note that all guests will be held in the Audi suite for the duration of your program, they will not be permitted to ride in the vehicle with you during your experience, and will not be guaranteed access to spectate your driving activities, as not all activities take place on track. This pass includes access to our Audi lounging areas, access to all food and beverage available to Audi participants, and includes a front seat for a single hot lap at the end of the program (hot laps subject to availability, guests must be 21 to participate in hot lap).
AM I ALLOWED TO BRING A CAMERA OR VIDEO CAMERA?
Absolutely! You are allowed to take photos and video during the event – we just ask that you skip the selfies while you're piloting an R8 at 100+ mph and keep both hands on the wheel! We also allow the use of your personal dash or windshield mounted cameras (such as GoPro cameras). Drone usage is restricted.
WHAT IS THE MINIMUM NUMBER OF PARTICIPANTS FOR EACH PROGRAM FOR A DATE TO BE GUARANTEED?
Track Discovery: 10 participants
Track Initiation: 10 participants
Track Immersion: 10 participants
Track Pro: 10 Participants
*If your program does not hit the minimum, you will be notified two weeks from the program date.
WHAT IS THE CANCELLATION POLICY?
With our program minimums, other guests are counting on you! Not to worry, if you cancel greater than 180 days of the experience date, we will provide you with a full refund. If you cancel between 180 days and greater than 90 days of the experience date, we will provide you with a 50% refund. Sadly, if you cancel within less than 90 days of the experience date, there will be no refunds issued. We must receive your cancellation by email, and we are not responsible for personal or business conflicts that may arise. Reach out to us prior to your scheduled event should you need to reschedule to another date.
WHAT ELSE DO I NEED TO KNOW?
Be sure to get a good night of rest beforehand, since the day starts early and is packed full of driver-focused activities. We'd also recommend limiting your consumption of alcoholic beverages the night before your event.