COTA Celebrates Topping Out of Pit Building
April 13, 2012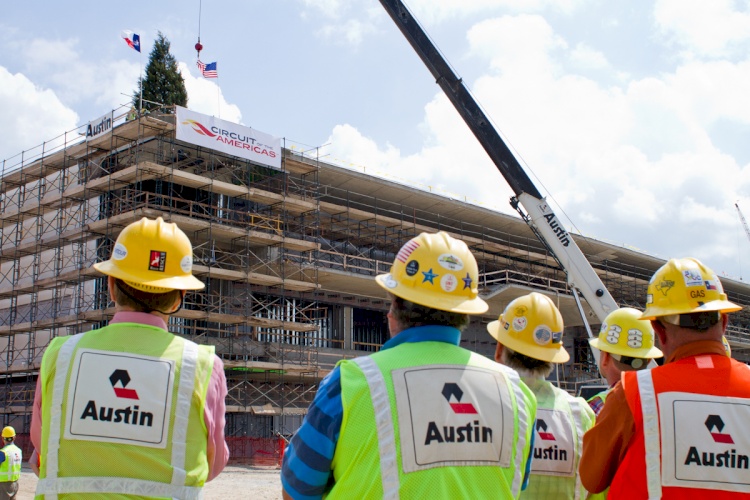 Construction continues to speed along at Circuit of The Americas™, but today work was halted briefly for a very special event. CoTA and general contractor Austin Commercial took some time to celebrate a significant building milestone for the sports, entertainment and business development facility under construction. Hundreds of guests gathered at the construction site to witness the substantial progress made on the track and facilities since work began early this year.
A "topping out" ceremony signifies when the construction team is ready to install support beams at the highest point of a building under construction. This morning, hundreds of Austin Commercial workers joined Circuit of The Americas employees and area VIPs to raise a tree with American and Texas flags attached to it to the highest point in the facility's pit building. The three-level, 270,000-square-foot pit building will accommodate up to 5,000 guests and will serve as hospitality space for sports groups, including motorsports teams, as well as meeting and hospitality space for a variety of business, entertainment and community events.
Local dignitaries, including State Senator Judith Zaffirini, Travis County Commissioner Margaret Gomez and newly announced Circuit investor and local entrepreneur John Paul DeJoria attended the ceremony and praised the long hours and dedication of construction crews working to complete the venue in advance of its first major event, the FORMULA 1 UNITED STATES GRAND PRIX™ set for Nov. 16-18, 2012.