COTA APRIL CONSTRUCTION UPDATE
April 24, 2012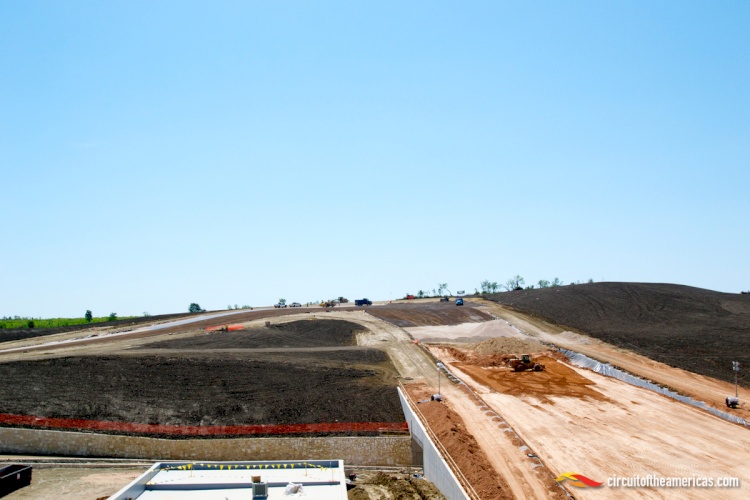 It's springtime in Central Texas, and the 500-plus workers building the brand new Circuit of The Americas sports, entertainment and business development facility outside Austin are taking advantage of the pleasant temperatures and extended daylight to gets lots of work done each week. Hardly a day goes by when you don't notice a significant change to the Circuit's landscape, and the last few days have brought remarkable additions to the buildings under construction along Pit Row.
Driving past the garages that will soon host the 12 most prestigious auto racing teams in the world, you can see crews installing metal framework, insulation and drywall, while on the rooftop workers are placing the air-conditioning units that will keep Formula 1 drivers, their crews and VIP guests cool and comfortable throughout the United States Grand Prix experience.
Skilled masons are at work on the facades of the Media, Technology and Conference Center and on the Medical Building. Cream-colored limestone will cover both structures, which will fit beautifully into the Central Texas backdrop. The installation of 14 windows facing Turn 20—the final turn of the Circuit—is also underway along the Media Center fascade. What an incredible view that will provide to journalists who will travel from around the world to Austin to cover F1™ and other Circuit-hosted motorsports.
Talk about being close to the action! Check out the view from the Main Grandstand, which has sprung up practically overnight. Standing on the main deck, behind the trackside and lower-level seats, it almost feels like you are ON the track. That's because the seats closest to the race course are only 48 feet away from the edge of the track. Can you imagine what it will be like to see the Starting Grid up close and personal? We can't wait!
While getting the track and related structures ready is job No. 1, construction crews are also making good progress on the Circuit's amphitheater, which will be the focal point of the Circuit's Grand Plaza, just inside the main entrance to the property. The entertainment venue, which will hold approximately 20,000 fans, is clearly visible now, with large retaining walls leading out to Turn 17 and a clear view of the hill that leads up to the Circuit's signature Turn 1. The amphitheater will be an incredible place to enjoy live music and all of the other exciting entertainment events planned for the Circuit in the months to come.
Preliminary asphalt testing is also underway, with the experts from Tilke Engineers & Architects documenting progress each week.
Yes, spring is in the air at Circuit of The Americas, and our team is looking forward to making the most of the long days and fair weather as we work to complete what is sure to be one of the most remarkable sports and entertainment venues in North America.
Stay tuned for more updates from your Circuit Communications Team!
By Julie Loignon